Where are you from?  I grew up in Jamestown, NY, which is about 1.5 hours south of Buffalo (go Bills!).  I completed my undergrad at Ohio Northern University in the rural village of Ada, OH - home to 2 stoplights, cornfields in every direction, and oddly enough, the only Wilson Football factory in the country.
How long have you lived in the area and why did you move here?  I moved here 9 months ago to start dental school at UNC. I have no prior connections to the area, but UNC was my dream school (not to mention NC seemed like a pretty great place to live) and I'm so thankful for the opportunity to be here.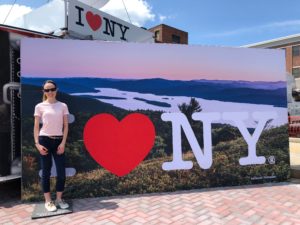 What are three words your friends would use to describe you?  Supportive, conscientious, and persevering.
Why do you run?  To challenge myself, get fresh air, and explore new places.
Why did you decide to join the Station Pub Run?  To find new running routes in town and get involved outside of school. Huge shoutout to Steph for all the hard work she does to keep SPR so fun and exciting!
What is your favorite thing about the Station Pub Run?  My favorite part is the people. I didn't know anyone in the state of NC when I first moved here last summer; I'm really thankful for the friendships I've made and the intellectually stimulating conversations that I get to look forward to each week. One of the best things about SPR is how it brings together people from all different careers and stages of life.
Describe the most recent (appropriate) photo you took with your phone:  A scenic shot of Raleigh Street from my most recent bike ride.
What is the best piece of advice you ever received, and who gave it to you?  My middle school gym teacher once told me: "Everything you do in life, do your best." Whether that's working on your career, studying, being there for a friend, or even as simple as waking up in the morning and brushing your teeth for that full 2 minutes; if you're not giving it your 100% effort, what's the point?
Favorite book? How about a book you think everyone must read? (They can be different.)  It's a tie between Life of Pi and Jurassic Park. [Side note: I went through a phase as a child where I would only read books about animals. I like to think that my interests have since diversified, but considering my favorites involve dinosaurs and a tiger… I guess old habits die hard.]
What is your most primary mode of transportation currently? (I like to think all the Pub Runners are smart commuters.)  Currently streaming classes online thanks to COVID-19. No transportation required.
If you could have any talent or skill in the entire world, without needing to practice and money was no limitation, what would it be?  To be ambidextrous. This would do wonders for my career as a dentist.
If you could eat only one meal (not just a single food) for the rest of your life, what would it be?  Avocado toast with all the good toppings (egg, tomato, scallions, and Trader Joe's EBTB seasoning).
What is the weirdest thing you've ever eaten?  I've got nothing. I will try anything once, so if you see me at SPR, come give me your suggestions!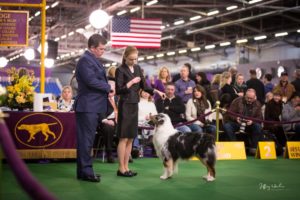 Tell us something about yourself that not many people know:  I have been training and showing dogs at American Kennel Club (AKC) dog shows since I was 9 years old. I was a nationally ranked junior handler for multiple years, and have qualified and competed at the Westminster dog show in NYC (that's the one on TV) three times with my Australian Shepherds.
What is something you have done recently, or are about to do, that you are proud of?  This coming June, I will be competing at the AKC Rally/Obedience National Championship in Ohio with my dog, Smokin. I was so excited to qualify last year before moving here for dental school.
Please share your favorite quote or slogan:  "Blessed are the flexible, for they shall never be bent out of shape."